Prebiotic Fibre - Gut Good
Regular price

Rs. 1,429.00

Regular price

Rs. 2,598.00

Sale price

Rs. 1,429.00
For Better Digestion And Gut Health
Gut Good is an outcome of naturally grown Chicory Root Fibre, that gives your gut a feeling of relaxation and makes you feel light & lit!
Ingredients
Why Gut Good?
India's First only Prebiotic Fiber gummies
Improves Digestion
Relieves gas,Constipation, Bloating
Strengthens immunity
Detoxification leading to better skin and hair
Improves Liver Health 
Improves oral and brain health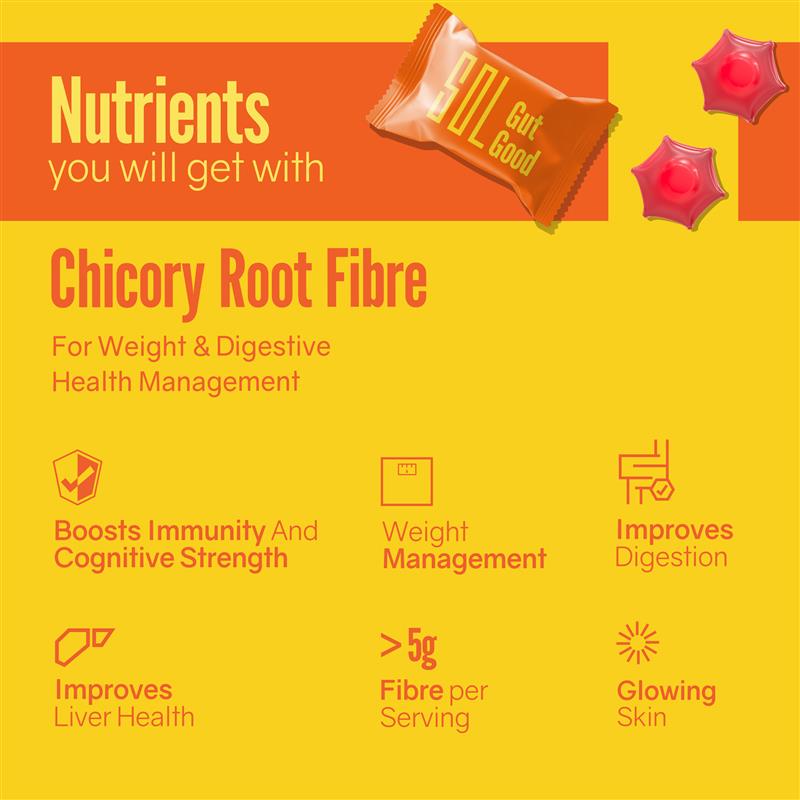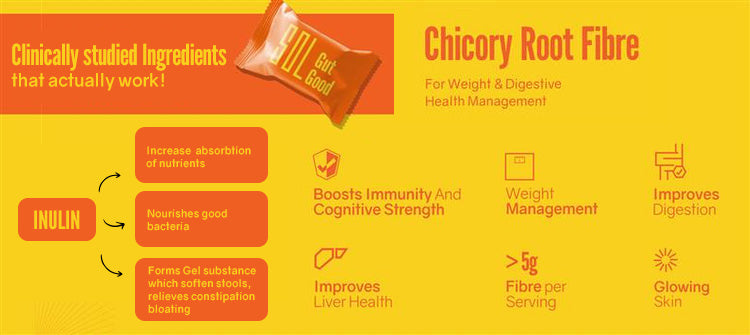 How it Works?
The soluble Chicory Root Fibre is essential for digestion, improves metabolism and contributes in enhancing food breakdown.  
Vegan Probiotic. Nothing Artificial.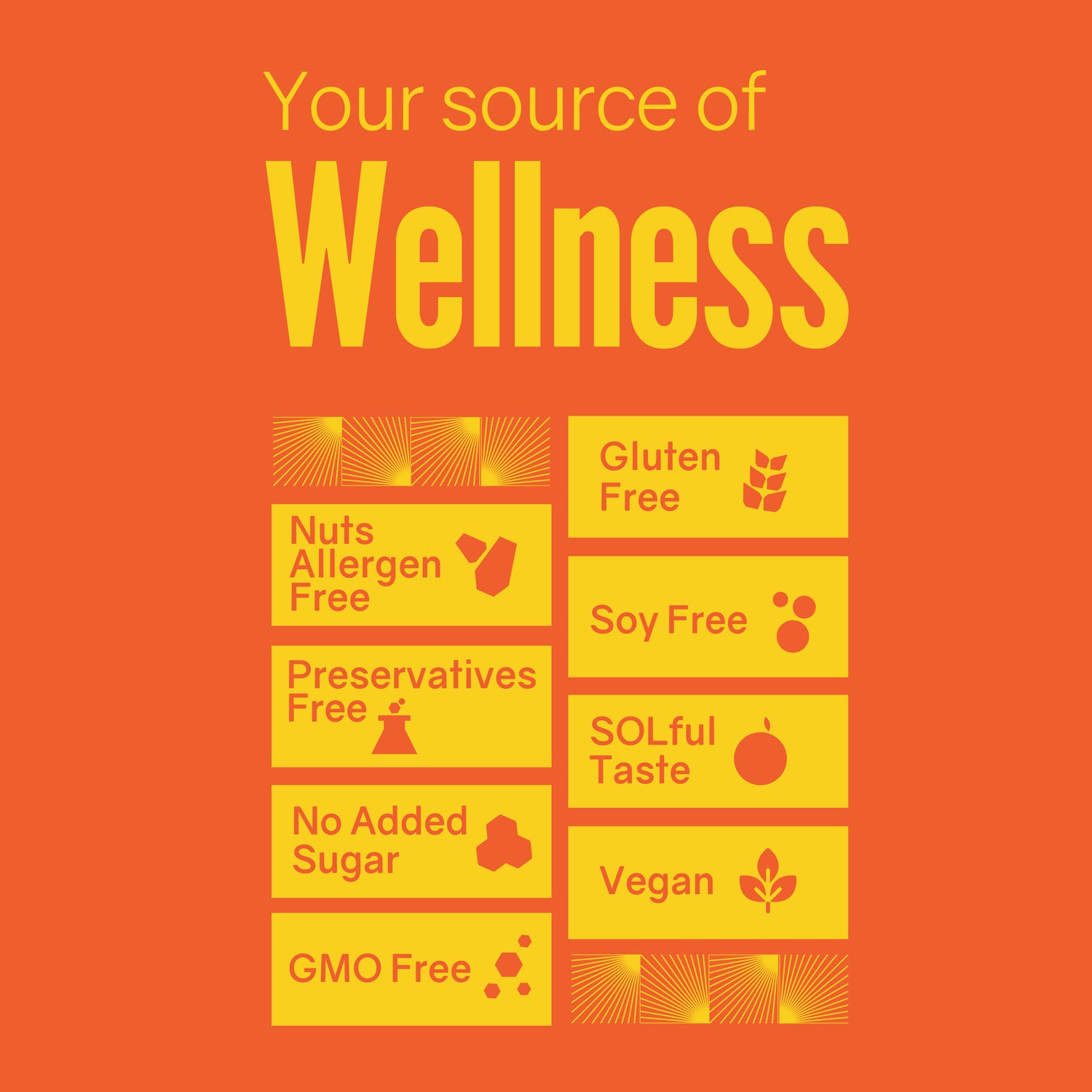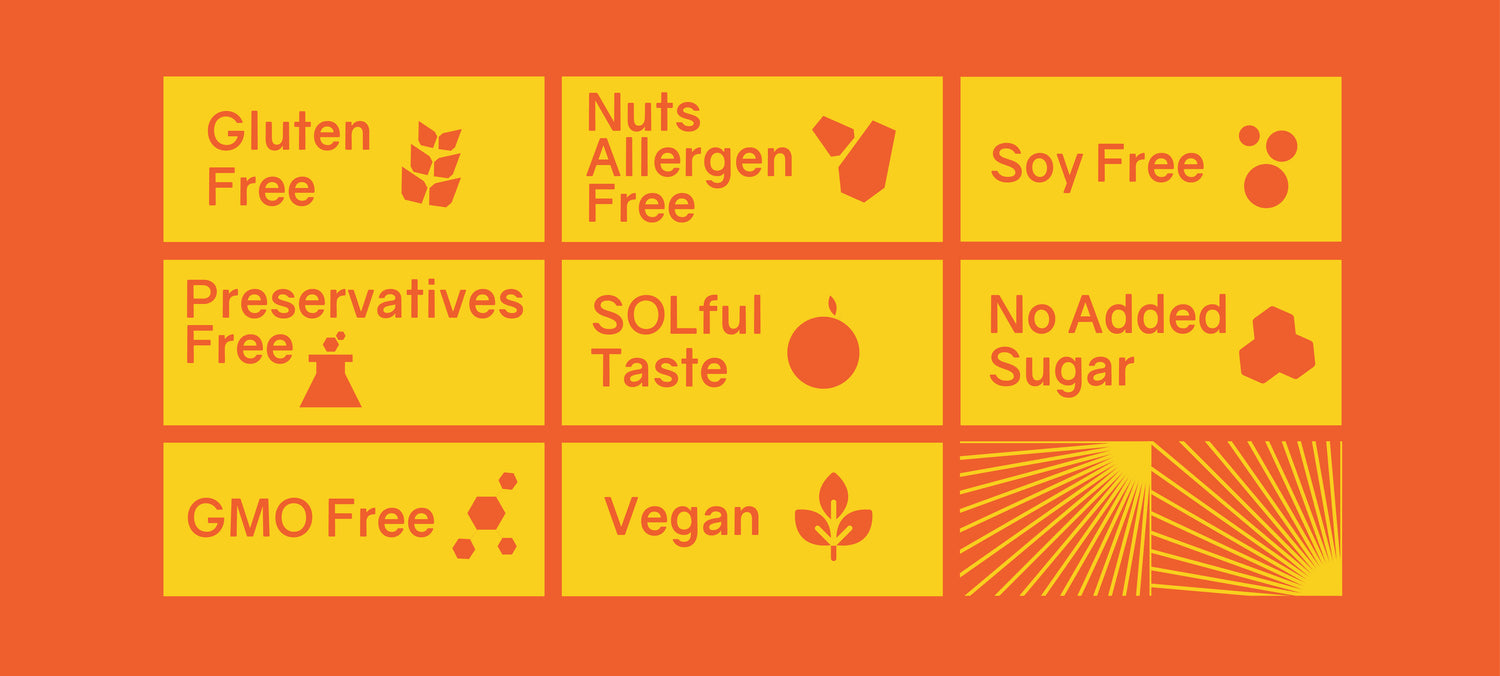 What's in it?
Chicory root Fiber, Pectin, Plant based gum, Mixed Fruit flavor, Purified Water, Citric Acid & Sodium Citrate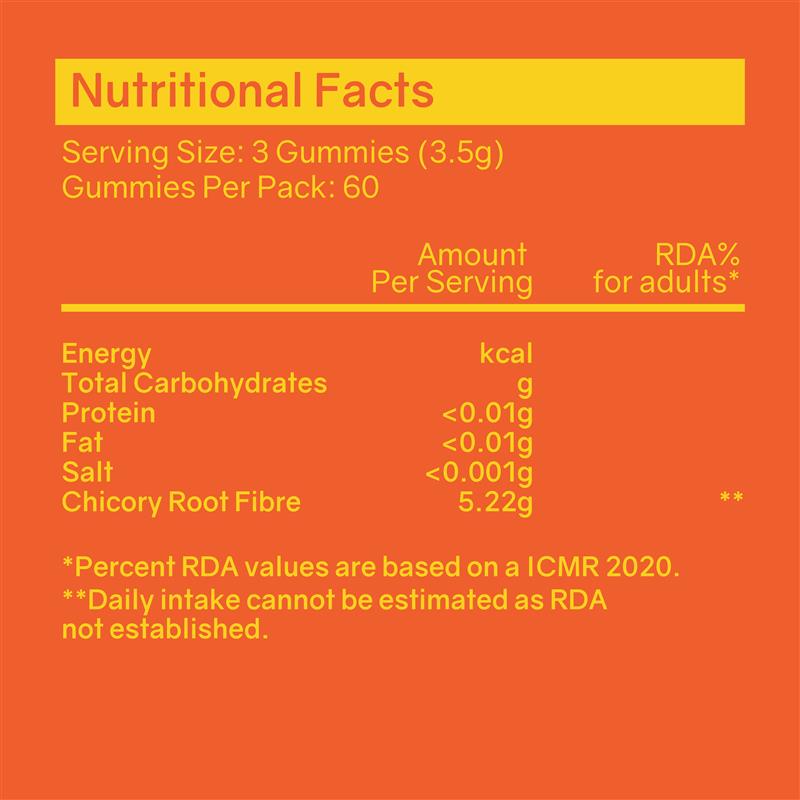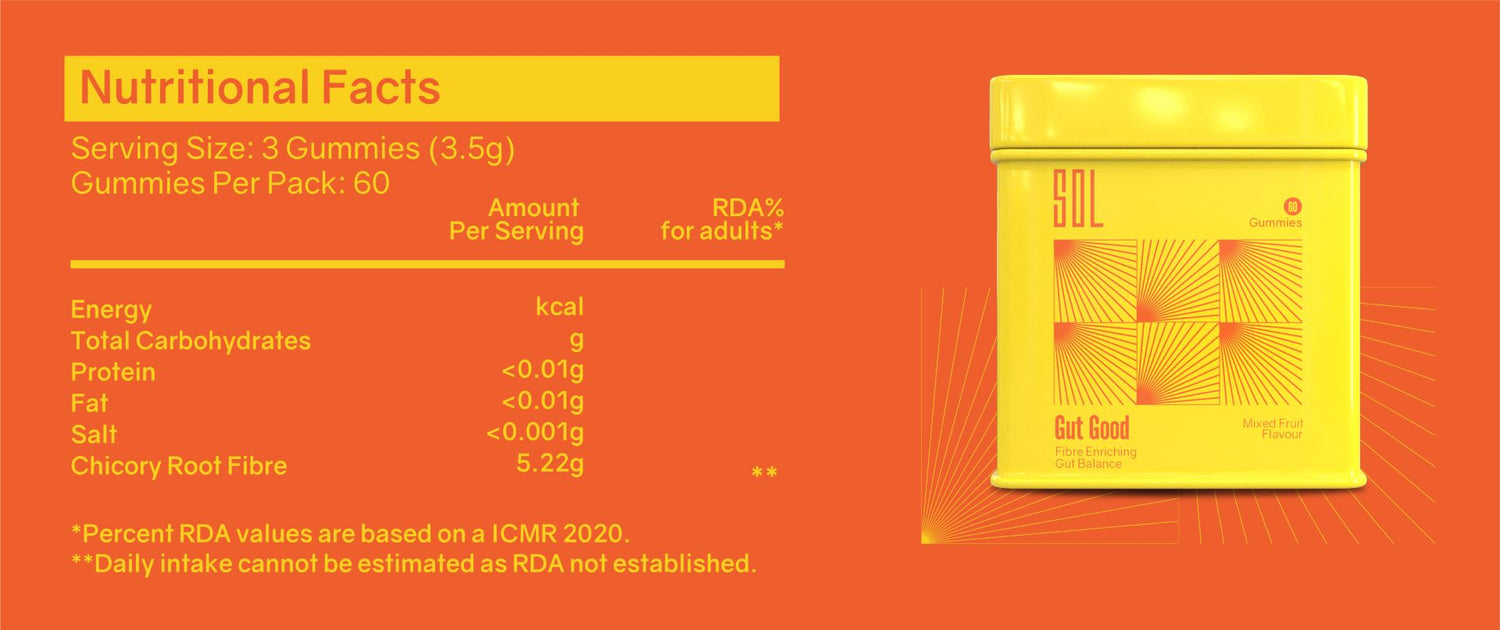 Source Necessary Nutrition With SOL
With the goodness of unaltered ingredients, sourced from nature.  
No Additives, No Preservatives, No Psyllium, No GMOs, No Artificial Colours. 
| | |
| --- | --- |
|  SOL GUT GOOD | OTHER SOURCES |
| HIGH PLANT SOURCED FIBRE | CONTAINS LOW FIBRE |
| HEMORRHOID RELIEF | - |
| NO ADDED SUGAR | CONTAINS ADDED SUGAR |
| GOOD FOR DIABETIC AND KIDNEY PATIENTS | MAY CONTAIN INGREDIENTS THAT ARE NOT GOOD. |
| FREE OF GLUTEN, SOY, ARTIFICIAL FLAVOURS, PRESERVATIVES, PEANUTS, MILK AND EGG | CONTAINS |
What to Expect?
30 Days of Use: The gut microbiome starts shifting from more good bacteria to less bad bacteria. Growth of beneficial bacteria reduces bloating, gas, burping and flatulence, especially after heavy meals.

60 days of Use:  Healthy bowel movements. Frequency of constipation and diarrhea reduces. Symptoms like acid reflux, heartburn and nausea are reduced. 

90 days of Use: Healthier gut microbiome which leads to better absorption of Nutrients. Good gut bacteria also reduces cravings for processed food. Mental health and skin health improves. Energy and appetite also improves.

*Each individual is unique and thus different results in different individuals with the same product,  this is known as Bio individuality.
Waste of money
Plz do not order this bad product
Prebiotic Fibre - Gut Good
Usefull product
I use this from a week. This is a useful product.
Good for gut issues
It works slowly but improving gut health
Nice product for our instastine
FAQs
Are there any side effects of Gut Good gummies? 

Our gummies are FSSAI approved and are 100% safe to consume. These gummies do not cause any harm, but we still suggest going through the ingredients list once to check if you are allergic to any of the ingredients
When and how much should I take? 

They can be taken any time during the day, but we recommend post-breakfast, post-lunch or as a mid-day snack when you have hunger pangs, cravings or need a sugar free energy boost. We recommend up to 3/day for adults and 2/day for children between ages 4-8 years.
Does it contain sugar? 

Unlike other gummies in the market, SOL gummies are 100% sugar free.
Is it safe for pregnant women, diabetic/PCOS/PCOD and children?

Yes, our gummies are FSSAI approved and are 100% safe to consume for pregnant women, children, diabetic/PCOS/PCOD patients. They do not cause any harm or side effects. We always suggest consulting your doctor before taking them if you are pregnant. We also suggest going through the ingredients list to check if you are allergic to any of the ingredients.
What are the various types of fibre? 

There are 2 different types of fibre: Soluble and Insoluble fibre. Most plants contain both soluble and insoluble fibre, but in different amounts. Soluble fibre dissolves in water and Insoluble fibre doesn't dissolve in water. Both are important for health, digestion, and preventing diseases.
How much fibre does Gut Good provide per serving? 

It provides 5.5 g of prebiotic fibre per serving.
Disclaimer: Statements are based on clinical study of ingredients.
Click here for reading the published studies.